Let's face it: our culture is enamored with Joisey. Jersey Shore, Jersey-liscious, The Real Housewives of New Jersey... the list goes on. As a born and raised Jersey girl, I have constantly been fighting against the Jersey stereotype ("Oh, but you see, I'm actually from South Jersey... no, I'm not Italian, how shocking right?"). And I have to say, the shows on TV right now about Jersey make my fair state look like a hot, skanky mess. My biggest beef with the people on these shows is that they dress like the stereotype. If they tuned down some "Jersey go-to" trends, they might actually do the state some justice. Before you can say "Prostitution Whore!", check out my suggestions below to de-Jersey the "Jersey Girl".
1. Big Hair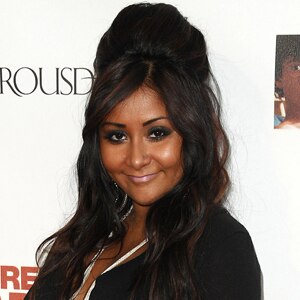 The Snooki Poof
Hey, I love big hair as much as the next girl... but the "Snooki" poof style is too much. TOO much. So much that even Snooki has retired it. Throw away your bump-its, and try a pony tail with some volume for a more chic approach to big hair, like Carrie Underwood did at the 2009 Grammy Awards (below). Still dramatic (not for everyday wear) but much more pretty.
Carrie gets it right with a low pony
2. "Bling"
Melissa, too much.
First of all, don't call it "bling". Now, shimmer isn't something to shy away from... who doesn't love a pretty sparkly dress or a glamourous necklace? The trick is knowing when to stop piling on the shimmer... the old rule "less is more" applies here. Note Real Housewive's star Melissa, above. The dress (and the feathers)! The shoes! The earrings! The bracelets! Way too much. Pick one focal point in your outfit, and keep everything else understated, including hair and makeup. I've found that Taylor Swift pretty much nails the sparkle trend in a way that is young and fun, but not over-the-top. Also, this trend is best suited for teenagers and early 20's, not middle-aged housewives.
Taylor Swift in her element. Fabulous.
3. Animal Print
SO WRONG
Nothing scares me more than too much animal print. My taste is to shy away from it completely, but recently I've been incorporating it into my wardrobe. Like everything listed in this post, it is best in moderation. If you're going to rock anything leopard print (or zebra, or giraffe) make sure it's not tight, shiny, or cheap-looking (see above). Instead, incorporate in accessories. Animal print, when done right, works for the little things, such as headbands, shoes, and cardigans. Take a hint from my personal style icon Rachel Bilson:
A pop of an animal print can be classy.

4. Fur
How many animals died in vain for bad fashion?
There used to be something so glamourous about a fur coat back in the 1920's... however, now it's a look that reads dated, or Jersey. Not to mention that I'm sure the women above aren't wearing faux. Fur did make a comeback last fall season, with vests becoming a popular staple (I admit, I do own a faux fur vest and I'm pretty in love with it). Since the trend is most likely here to stay for this upcoming fall season, here's how to do fur in a more casual way. And always keep it faux!
Loving the white button-down underneath, paired with jeans!


There you go! When you take the "Jersey" out of these "Jersey trends", they don't seems so bad. In fact, they can be down-right fashionable. As for me, I'll continue to try to lead by example that a girl from Jersey does not a Jersey Girl make.
xox devon shea
(PS: This post was in good fun, I mean no offense to any of my fellow Jersey readers!)